My love affair with Borden's Eagle Brand Condensed Milk started when I was a mere child. My mother used to make some sort of cherry pie with this sweet, milky, creamy, heavenly concoction. She would always give me the lid and I would lick the remaining milk and then go digging in the trash can to see if I could find the can. I did a little historical check on this luscious, gooey gift from God and found out that it came on the United States market in 1856, the brainchild of Gail Borden, a chronic culinary inventor. Mr. Borden began experimenting with sterilized milk after a series of "swill milk" scandals that revealed the true contents of much of the milk then for sale in American cities: chalk powder, molasses and vermin. His process — a combination of vacuum pressure, heat and added sugar — produced a dairy product that is nearly indestructible, with a shelf life of years. Mr. Borden made his fortune supplying condensed milk to the Union Army in the Civil War. It was airlifted into Berlin in the 1940s, and more recently has opened up Asia as a major market for American milk. I thank God for this man.
My road to diabetes started early. I am a abnormal creature because when I was a kid, I would buy a can and a lemon. I would then squeeze the lemon into the milk, stir and freeze it. I know it was a sugary overload but at that age, who cared. Who needed Butterfinger, 5th Avenues or PayDay's. I was in sugar coma heaven.
As I got older, I weaned myself of the can. I wasn't to crazy about developing diabetes. I needed no rehab just cold turkey with the occasional slip up. Many years ago Rebecca and I were at a restaurant here in Greenville and we split a Caramel Pie for desert. I took one bite and I was like a junkie looking for his next fix. The Eagle had landed on me once again. I went crazy. I asked the waiter for the recipe. He came back and told me that the chef wouldn't give it to him. I tried blackmail, extortion, payola. I even offered up Rebecca. You name it, I tried it. I was heartbroken. There is a happy ending, however. A friend of mine knew someone at the restaurant and got me the recipe for a small price. Little did I know that condensed milk was caramel in a can or in my case, crack cocaine in a can.
So here I am now, pretty much a reformed Eagle Brand addict. It has been tough, I will admit. Like any addict there are good days and bad. Thank God they came out with Pumpkin Spice Eagle Brand. I have found that is the best defense with my addiction. It is Methadone to a heroin addict. Pumpkin Spice anything is God awful. I do slip up and will make the occasional Caramel Pie on Christmas or sometimes at the soup kitchen they might be preparing a desert with the drug. I've been known to confiscate the lid and run off somewhere and lick it clean hoping that I'm not found out and pray that I haven't started down to that road of perdition.
So there it is. I admit it. I have a problem but I am a overcomer. Just in case you would like to be an addict, here is the recipe.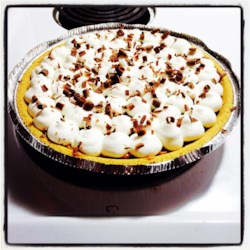 Caramel Pie
Ingredients
1 (14 ounce) can sweetened condensed milk
1 (9 inch) prepared graham cracker crust
1 (12 ounce) container frozen whipped topping, thawed
Directions
In a large pot, place the can of sweetened condensed milk with the label taken off, in the pot and cover with water. Cook on high until water comes to a boil, then turn on medium/high for 4 hours, only adding water to keep the can covered.
Carefully open can and pour into pie shell. Cool pie in refrigerator. When completely cooled, top with frozen whipped topping. Serve.